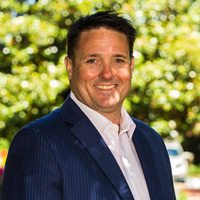 By Gretchen Eisenberg
Since our first article in this series, I have gotten a lot of positive feedback as readers share how nice it is getting to know the Key Financial team. Choosing which person from our team should go next was a challenge because everyone plays such a key role here. Like a well-oiled machine, everyone works together, making sure that the administrative, operations, communications, client-care, and all other aspects of our business are taken care of. There was not always a team like this; as a matter of fact, ten years ago it was just two driven men (Jason Jennings and David Morders), determined to see Key Financial grow into what it has become today. I hope that you will enjoy this interview with David as he shares about his life growing up and living in Frederick County and his vision for Key Financial Group.
Can you tell us a bit about yourself and your family?
David: I was born and raised in Frederick. Now, I live in Middletown with my wife and our four children.
How has Frederick changed since your growing up years in the city?
David: It has become a lot more business friendly. You can see that by the many locally owned businesses throughout the county and city. When I was growing up, Frederick seemed to be much more of a commuter city.
How did you meet your wife?
David: We met at "In the Streets" in downtown Frederick. (For those of you who have not been to "In the Streets" or are not from our area, this annual festival features many of the things that make Frederick special like local musicians, great food, good art, educational activities, and a whole lot more. Thousands of people attend from all over the region every year).
When you're not serving your clients at Key Financial Group or spending time with your wife and children, how do you enjoy spending your downtime?
David: I'm an outdoors guy. I love going hunting and getting time on the boat for fishing. Whether it's time with old friends, my brother and my dad, or the family, the boat is a great place to be at this time of year (especially if I'm catching fish).
I know that you grew up in the city of Frederick. What's it like owning a business that serves others right in your hometown?
David: It's a privilege to serve people you have known most of your life. When those people trust you and believe in what you do so much that they refer their family members and closest friends to you, it is amazing.
How did you decide that the right career path was that of a Financial Advisor?
David: This career path chose me. I was a week out of college and had student loans I was determined to get paid off. When an internship opportunity at Merrill Lynch became available, it was perfect timing. Being a financial advisor, serving people this way—it's the right fit for me.
I see that you went to Frostburg State University for your degree in Business Finance and then went on to Georgetown University for your master's degree. What are your best memories from your college days?
David: I had a whole lot of fun making friends. I'm still close to many of them to this day.
Before you and your business partner, Jason Jennings, started Key Financial Group, you worked for a different wire house firm. What was it like for you transitioning from working for another company to starting over on your own?
David: It was a challenging transition that I'm glad we went through. While serving the firm, it was critical to be ready to leave with a wise, workable exit strategy that would be wise for us and our clients. Becoming independent meant that we would each have to wear a whole lot more hats; the responsibilities are greater. We knew it was worth that risk because being independent meant that we would get to serve our clients in ways we genuinely feel is better for them. Another plus is that we get to hire and work with the people according to our values and our clients' needs.
2019 marks the ten-year-anniversary of Key Financial Group. What would you like to see happening in the next ten years for both your company and those that you serve?
David: I would like to see us continue to grow our staff as we expand our reach in the community where we work and serve. As we grow, providing excellent client experiences will remain a top priority.
Managing Partner Key Financial Group